If taken care of properly your microwave heating pad can last for years and with the washable pillowcase they stay clean and the heat lasts longer. The soft flannel pillowcase that comes with every heating pad feels wonderful.
Removable washable pillowcase keeps it clean while helping keep the heat in. It also makes the cold last longer also if you use it as a cold pack we have many customers who use it after a knee injury to bring the swelling down.
Reusable in the microwave, we have customers who have used theirs for years and come back to give as gifts. This is not a heating pad that is a one time thing but well worth what you pay for it. Just try it once and you will see what we are talking about, we have never had a return and we have sold thousands here and at shows.
It will comfort you with deep relaxing warmth and a gift that is used over and over, some of our customers have had theirs for many years. Great for Plantar Fasciiti and wraps around you foot for even heat.
We make it with pockets so you get even warmth all the way around your body, the contents stay put because of our own special design makes it even. You may also put it in the freezer if you want it cold.
They come with a soft Flannel pillowcase that helps keeps the warmth in and it stays clean, just throw the pillowcase in the washer and you may choose between a plaid or floral pillowcase.
The best neck heating pad on the market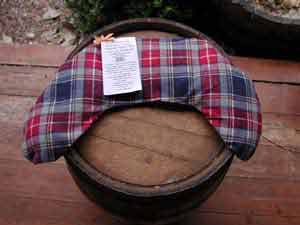 $30.95 We have sold thousands and never had one returned
Deep heat radiates into your body, you will feel instant comfort. They measure approximately 6 inches wide by 31 inches long and are curved. Some of our customers take them to work and use them while they are at their computers.
We make ours with pockets so the contents distributes evenly throughout the area for a deep even heat.. It wraps around your sciatic nerve really well to help sooth the pain. Use it for sprains it wraps around all parts of your body comfortably.
This is fitted for your upper body or turn it upside down and it fits your your lower back perfectly. Wrap it around your sciatic nerve knee or thigh for comfort and relax your muscles with the deep and even warmth you will only get with ours. This can be used cold or hot wrap it around your knee or ankle for relief all this in one pad. Washable pillowcase included with all our pads and best of all it is made in America.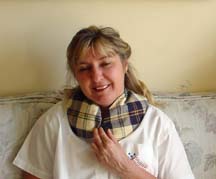 Our own special design fits so comfortable on your neck, shoulder or both of them together.
Turn it upside for a lower back pad, it fits perfectly to around your lower back. Wrap it around your knee for warmth or use it as a cold pack. Wrap it around your ankle for a warm ankle or use it for an ankle cold pack.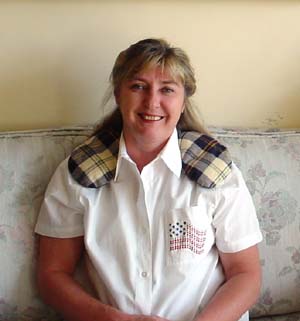 Only $30.95 and comes with a soft flannel washable pillowcase
Comfortable for your shoulder or push it up to cover your entire top part. Once you use our style you won't ever want to any another, and what is great about ours is your can use it over and over.
We were at a show where we had a customer come up just as someone else was asking how long last. She told her she had hers for seven years and uses it daily and it is still good. This is not the first time this has happened, others have done the same thing at multiple shows. Our customers are very loyal and come back.
Neck heating pad and large heating pad for the back knee arm and foot that moulds to your body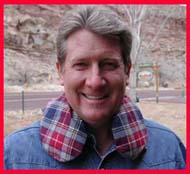 Notice the way it curves around your neck. Our special design makes it perfect for your body.
The contents stay put and don't all run to the front or back because we make our them with pockets to keep the even warm throughout.
This is one of the most widely used by massage therapists because of the comfort you get when you use it.. We also have hair stylist and barbers use this for their customers.
This is portable, you can take to work or on trips and is made to last, we have
Turn this upside down and use it for your lower back or throw it over your shoulder and down your upper back or wrap around one or both knees.
This may be used all over your body. The special design helps it to drape comfortably around your areas of the body that are in need of comfort.
Order extra pad covers for $9.95 each Order plaid or floral flannel covers for that are all washable.
Can be used to wrap around your lung on one side for comfort if needed. We have had customers use it that have had pleurisy.
The response from our customers has been overwhelming, you will not find the comfort you get with ours in any other pad. Ours is simply that comforting.
More customer comments
Hello, The pads arrived this weekend. They look and feel great. Thank you. Nurit
Greetings.
Got them today I think I'm getting the flu and I heated the pad up, okay it was a Christmas present for somebody else, but not anymore it feels so good I love it. And my hubby likes it too cause it doesn't stink lavender like my other ones. Anyway, thanks so much and have a great holiday. Clara
You are right! My neck pad is wonderful, better than an others that I have had. Julie
I've had other heating pads before but never have they fit my body and comforted like these, thanks so much. Susan
Just a note to let you know we received the heating pad. My wife loves it. Thank you so much. Steve
I received one of your neck pads a couple of years ago as a gift... I have another use for you, LOL... Not only does it soothe aching muscles, but... I am extremely cold natured and my husband is NOT, so this is a TERRIFIC help to me to keep from being cold all over. I heat it up, throw it around my neck and VOILA, I'm not cold! It has worked wonders. I am gonna need to get a new one, LOL Karen K NQ Arkansas
Love my neck pad! It is the best thing I have ever bought for myself. I use it on my neck and then turn it upside down and use it on my back. The washable pillowcase makes it so easy to keep clean. I will be a regular customer for gifts for friends and family, that will make me very popular. I know they will use it! George
Dog not included.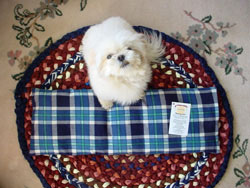 Extra Large heating pad 10" x 26" number 801 $42.95
Large Heating Pad 10" x 18 1/2" number 802 $34.95
Sizes are approximate


All our large heat pads come with removable pillowcase and they are all washable to keep the inside clean. Throw the whole thing in the microwave to heat and if it gets dirty simply remove the cover and wash it. It come with 1 cover, but if you want to order an extra pillowcase the prices are below.

Extra Cover 10 x 26" $15.95
Extra Cover 10 x 18 1/2" $10.95

You may choose from a Plaid or Floral flannel pillowcase and one is included with your order. They are made with pockets so there is even heat throughout for added comfort and deep down to your muscles for maximum relief

They can be used hot or cold. This is the preferred one for people, dogs and cats. You will love this almost as much as your dog or cat if not more. Because we make our microwave heating pads with pockets the insides won't run from one place to another, they stay in place for even heat or cold.

Customer Comments

Thank you! I received the pad a couple of days ago and it feels wonderful! This is the first real relief I've had for my neck in months. I'm grateful and delighted to have discovered your product. Sincerely Judy, Stony Brook, NY.

I received my order and am quite satisfied. All the pads and covers are beautifully done. I am using them for myself, my oldest cat, and giving some for Christmas gifts. Thanks so much!!! Happy Holidays to you and yours! Sincerely Vicki OH! Thank you, thank you, thank you!

Your pad is marvelous! Better than advertised. It came perfectly packaged.. I am SO pleased. I love the shape and design and was surprised to see that it had a removable, washable cover. I suppose it was advertised as such; but I must have overlooked it!

I will tell everyone I know. I have such pain in my lower back from severe arthritis. It also affects my knees. This is PERFECT Thank you again, Judy Hi,

The pads arrived yesterday in good shape. I especially like the way the shoulder pad fits. Thanks, Fran

Our nieces have confiscated our pads and we are in need of new ones! Thank you for a great product. My wife won't travel without them. Eric
They had a neck and square heating pad for nine years before ordering new ones and the nieces are still using them.
Large Heating Pad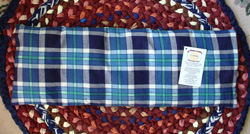 Extra Large heating pad 10" x 26" number 801 $42.95
Large heating pad 10" x 18 1/2" number 802 $34.95
Large microwave pad covers your back, knee, elbow, leg or anywhere you need heat or cold It will cover your parts of your body or use as a bed warmer. You will be surprised how long they stay warm. You will get even warmth throughout because we make it with pockets so the contents stay put and don't go to one side.
It covers your body where it needs it or brings warmth deep into your muscles. Because it is larger it stretches to cover more parts of your body at once.
You may order extra pillowcases, they come in plaid or floral flannel.
Extra covers
10 x 26" $15.95
10 x 18 1/2" $10.95
We can not say enough nice things about this wonderful heating pad. It is by far the best thing we carry. If you were to try one on today you would buy one in an instant. It is so versatile because it can fit anywhere. You won't just use this on the top of your body but other parts as well.
Another feature about our product is we make it with pockets so when you pick it up it does not move all to one end. It is an even comfortable fit and distributes all throughout for hot or cold use.
Your neck pad packs easily, wear it on trips there is always a microwave available and at work when you are on the computer or just around the house.
All the many years we have been selling this we have never had one returned, only more orders to give as gifts. We have some customers that order them in for Christmas and give them to the whole family because they are just that good.
This is truly for the person who had everything, including an achy body
You will be immediately comforted when you put your neck heating pad on your body
This comes with no cord and you will be surprised how long it stays warm and when it cools down just throw it in the microwave and re heat it.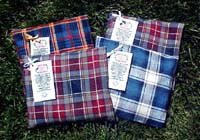 Heating Pad $14.95 ea
Our heating pads will comfort you on a cold winter night, throw it in your bed and you'll be surprised how long it lasts. The perfect bed warmer.
They all come with a soft washable pillowcase just heat in the microwave and use it over and over and it lasts or you may put in the freezer for a cold pack.
If your body is achy or sore use this pad and it will ache no more.
You may buy extra heating pad pillowcases for only $6.49. Our square heat pads are durable for many years of use. Take it to bed just like the old fashioned bed warmers, thy are much better than an electric heating pad as no cord is needed and the heat goes down slowly so not worries about electricity while your in bed
Back heating pads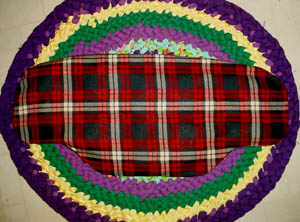 Back Heating Pad with special design to fit your back $36.95 Covers come in assorted plaid or floral flannel. An easy to clean flannel pillowcase that keeps the heat in and each order comes with one cover and you may order extra covers for $10.95 each.
Back heating pad has special design to mould to your back. Once you have tried our special designed back heating pad you won't use another. It sooths the pain and ache away and you will love the way it fits your body. It also fits your upper body with ease.
Heating Pad has deep heat to your muscles and body
Use Heating Pad hot or Cold for Cold Pack for fever or migraine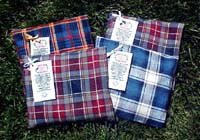 Square heating pads come with a washable pillowcase for only $14.95. Use it as a bed warmer or for deep heat to a sore muscle or back.
If your body is achy or sore use this pad and it will ache no more.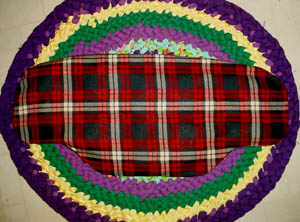 Back Heating Pad with special design to fit your back $36.95 Covers come in assorted plaid or floral flannel. An easy to clean flannel pillowcase that keeps the heat in and each order comes with one cover and you may order extra covers for $10.95 each.
Back heating pad has special design to mould to your back. Once you have tried our special designed back heating pad you won't use another.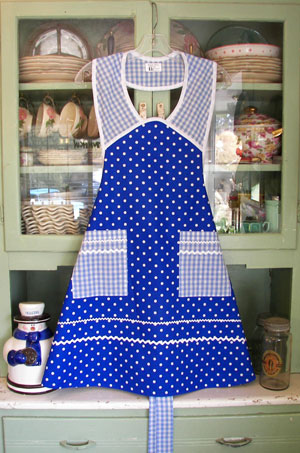 1940 Sky Blue Polka Dot and Blue Gingham women aprons 1082 girl aprons 296
1940 blue polka dot with blue and white gingham. All the makings of a retro old fashioned style combined. Beautiful blue with white polka dots and contrasting white rick rack set this apart. So beautiful you can wear year round, even festive for the Holidays! Available in women and child sizes.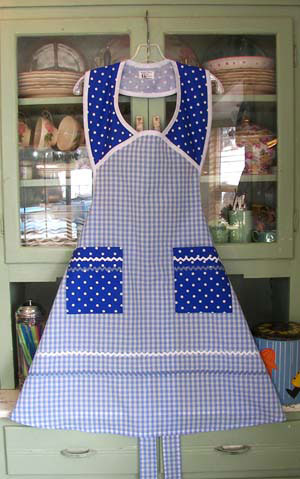 1940 Blue Gingham Blue Polka Dot aprons women number 135 girl 247
Blue gingham 1940 in with blue and white polka dot on the pockets and top, with white and blue rick rack on the pockets. White trim adds to the retro look and comes in matching mother daughter aprons.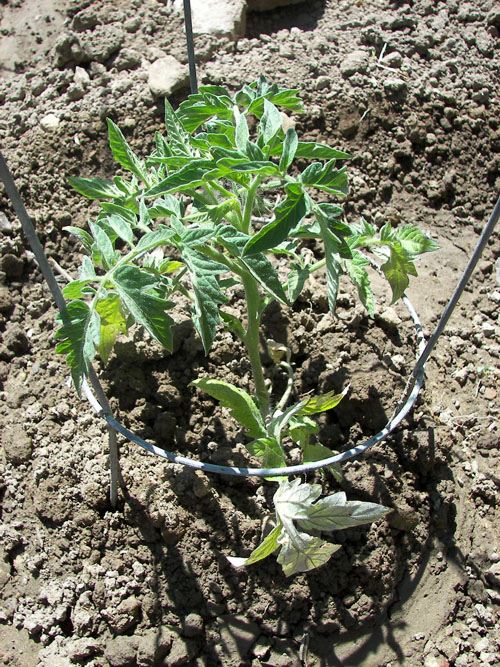 I would suggest you go to our How to plant tomatoes page for more details
Tomatoes and all members of the Brassica Cabbage family repel each other and should be kept apart. Tomatoes and potatoes should be kept apart. Do not plant fennel near tomatoes.
Tomatoes protect asparagus against the asparagus beetle. Tomatoes also protect gooseberries against insects.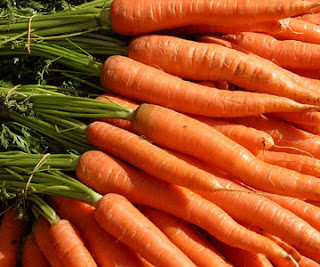 Carrots seem to be the vegetable that looks healthy and tastes good. We all want to plant our own carrots and have crisp carrots to snack on. I have a few tips on planting your carrots that I use, you can try them if you like.
Carrots like soil with lime, humus and potash in it. When carrots have long periods of hot weather and too much nitrogen them see to have poor flavor.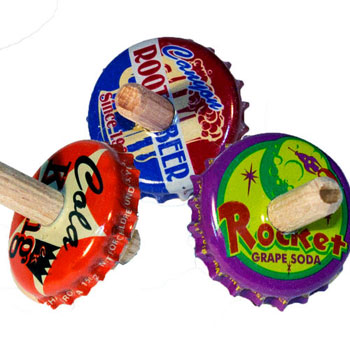 Bottle Cap Spinners 209 $1.95 ea.
Old Fashioned bottle caps will seemingly spin forever. The best nostalgic spinning top. Metal tops with wooden spinner.
This is a toy for every age, it is easy to use and the bottle caps come in three different flavors so everyone can have root beer, rocket grape soda or cola. Pick your pop with a wooden knob to hold onto.
Kids wood rolling pin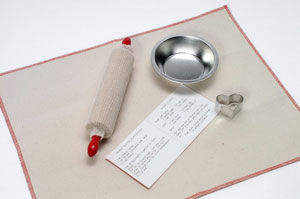 Kids wood rolling pin pie plate heart cookie cutter canvas mat $19.95
Enjoy baking with your children using this child pastry set and child rolling pin. Just perfect for small hands.