Neck heating Pad $30.95
The Cadillac of our heating pads. Our special designed neck heating pad will form to your neck, shoulder, knees and back. We've had people who have had bone spurs removed and used it to wrap around there foot after the doctor said they could start using heat. We also make it with pockets so the contents do not go to one end but stay put for even distribution.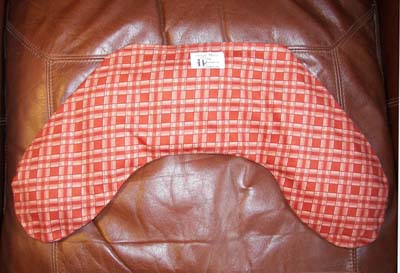 Square heating pads for comfort of your sore back & body
Deep warmth to your muscles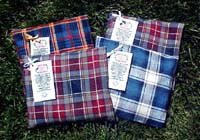 Square Heating Pads $14.95
Choose from plaid or floral soft flannel pillowcases. Microwave heating pad has a soft removable pillowcase to keep the insides clean, the flannel feels wonderful next to your body and when it gets dirt just take the pillowcase off and wash it.
Use it as a bed warmer, hand warmer or foot warmer and it is portable so you can take it anywhere. We have customers who warm it up and put it inside there coats and take them to football games. You will be surprised how long they stay warm when insulated inside a coat of the covers of your bed.
Perfect for a cold pack just throw it in the freezer. We like to throw it in a plastic bag and when you take it out put the soft flannel pillowcase back on and you don't have that frost on you and no drip like an ice pack can have. The cover helps keeps the cold in for a longer period of time.
The flannel is soft and because of the contents and the way these are made they contour to your body with wonderful mouldable contents natural with a washable pillowcase, a Native American remedy for aches & pains.
Turn it upside down and you have the perfect one for your back. It fits wonderfully for that sore lower back pain.
Our neck heating pad is the best neck heating pad on the market. You can not just use it on your neck and shoulder but it curves to your lower back. The way this is made it heats evenly, the contents do not move from one side to another, they stay put for comfort throughout.

Massage Therapists use this for massage because of the same deep heat as the rock massage but you can give this treat to yourself without going anywhere but the comfort of your own home.
Use it cold or hot for a migraine when needed, otherwise use it on any other sore part of your body.
We have customers who have used the same one for years, they last.
A cute comment from one of our customers who love cats and they love our heating pads
I bought a corn-filled heating pad years ago. It is the best thing ever. Unfortunately my cat thinks it is the best thing ever and always hogs it. I have been looking for another microwavable heating pad for years. All I find are those aroma therapy ones. I don't like them at all. I am so excited to have finally found you! Many Thanks, Nicole, Arlington Maine.
We asked her if we could use her story and this was her reply. I would be happy for you to use the cat story. In fact, she is yowling right now because it is getting cold and she wants me to reheat it for her. She gets all excited when she hears the microwave. She can keep the old one, but she is definitely not getting the new ones. I have suffered long enough. Its my turn now.
Thank you again, Nicole
This the best heating pad I have ever had. It goes way into my muscles where it hurts for more comfort I have felt in a long time. I will put you in as my favorite. Sam Olsen New York.
Customer Comments

Whoever invented your heating pad is a genius. I got the back heating pad and my wife and I love it. We have a heating pad with no cord and it feels so good. Thanks, Joel

I received your heating pad a few days ago. I heat them up in the microwave and place them in the bed at the feet before I go to bed. They warm up the bed and let me go to sleep without feeling cold. I don't have to worry about going to sleep with an electrical heating pad. They are great, thanks for the fast service. Daniel

My son broke a bone in his hand and had to cold pack it, the square bag just fit over his hand comfortably, the ice was too hard and bitter cold. Your bag was perfect. Thanks Ann

I love my heating pad. four more to give to my kids for Christmas, they fight over mine so I know they will love it. Emily

Thank you so much for the help with my sisters order. She is thrilled with the corn bags and will remain a loyal customer. She has Raynauds disease and so her hands are cold 24/7. The bags stay even warmer then most because of the covers. So again Thanks