tel: 435-648-2141




TOYS



Thanksgiving


CHRISTMAS


Cookbooks




Cloth Face Masks

Canning Raspberry and Apricot Jam
COOKIE COOKBOOK
The 1st American Cookie Lady Recipes from a 1917 Cookie Diary Cookbook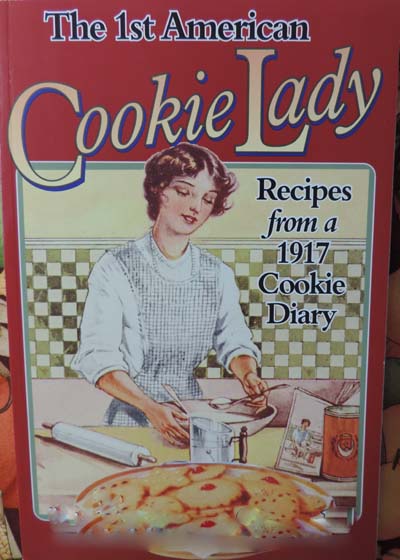 1st American Cookie Lady Cookbook $16.95
The 1st American Cookie Lady is based on a fascinating mystery. In 1917 Anna Cookie Covington set out to record all her favorite cookie recipes as a gift to her daughter because no published cookie recipe books existed at that time. Strangely her 76 page handwritten personal cooking diary was never delivered to her daughter as planned. 88 years later, the unused diary fell into the hands of food historian Barbara Swell, who recognized it as perhaps the earliest collection of American cookie recipes dating from the mid 1880s up through World War I. The 1st American Cookie Lady includes Anna's 221 recipes recorded from 1917-1920 along with adaptations for the modern kitchen, vintage graphics and photos, World War I food shortage recipes, plus curiosities of cookie baking history. 6" x 9", 152 pages.
RECIPES INCLUDE:
Sugar Cookies: Best Blitz Kitchen, , Cream recipe, Plain Dew Drops, Drop, Egg less, Fairy, Fancy, Irene's Light, Lady Fingers, Lemon, Mother's Orange, Plain, Quick, Rock Royal, Sand Tart, Shingles, Shrewbury Cakes, Snickerdoodles, Soft, Sour Cream, Sour Milk, Sponge, Sugar, Thin Rich
Shortbreads: Cocoanut, Scottish Petticoat Tails, Shortbread Varieties
Molasses Cookies: Brown Cookies, Chewy Molasses, Drop Molasses, Cinnamon Drops, Gingerbread Folks, Jungle Drops, Mama Drop, Maple Molasses Ice Box, Molasses, Roxbury Drops, Spice Cake Drops, Wine Drops Ginger Cookies: Ginger Cookies, Ginger Drops, Ginger Snaps, Iced Ginger Cookies, Laughing or Fun Nuts, Sour Milk Ginger
Filled: Filled, Fig, Fig Bars, Filled Cookies, Rum Raisin, Peek-A-Boo
Fruit: Applesauce, Armon, Boston, Currant, Edenkobers, Fruit Drops, Drop, Hazel Hermits, Not Baked Fruit, Pepper Kobers, Prune Rhubarb Rock
PIE COOKBOOK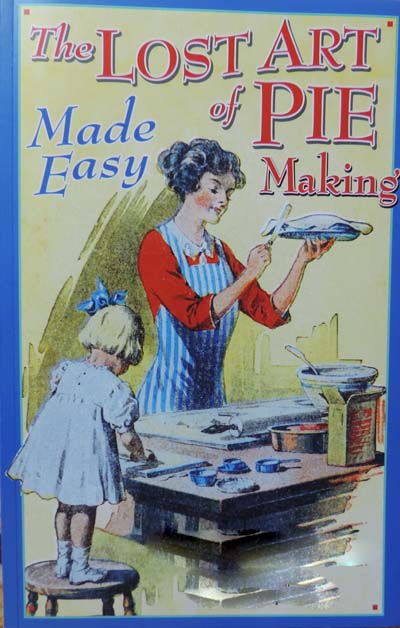 Pie Making Made Easy $8.95

Come home to Pie. This is witty and fun to show you how to make a darn good pie in a jiffy. You'll feel like you're back in your grandma's kitchen as she shows you how she rolls out her flaky, tender pie crust. Recipes date from 1831, many from 19th century handwritten journals. Includes old time pie lore, pie insults, why men love pie, pie contest tips, vintage photos, historic recipes and more. Make pies like Run Bittersweet Chocolate, Vanilla crumb, Apple/Pear Mince, quick flip pies, dumplings and crisps. 5 1/2" x 8 1/2" 72 pages.

RECIPES INCLUDE:

Pie crust: Aunt Jenny's Crust, Barbs Butter Crust, Mom Brooks' Crust, Oil Crust,

Fruit Pies: Apple Raspberry, Concord Grape, Dutch Oven, Apple Cherry, Fresh Blueberry, Fresh Raspberry, Fresh Rhubarb, Green Apple July Berry Pie, Raspberries in Ambush, Simple Summer Fruit, Sour Cherry Amaretto, Sponge

Two Crust Lemon Pie: Lemon Custard, Lemon Meringue, Lemon Sponge

Two Crust Lemon: Cream Pie: Banana Cream, Chocolate Cream, Coconut Cream, Orange Cream

Holiday Pie: Apple/Pear Mince, Farmer's Mince, Mock Cherry, Pumpkin, Pumpkin Chiffon

Custard: Chess, Chocolate Chess, Lemon Chess, Coconut, Key Line, Os-Good, Pinto Bean, Rum Bittersweet, Sliced Sweet Potato, Sweet Potato

Quick Pie: Apricot Skillet, Cranberry Surprise, Fruit Crisp, Honey Apple Dumplings, Miracle Cobbler.

Who doesn't love pie, step by step instructions for you and the family to have fun in the kitchen. An old fashioned way to learn new things.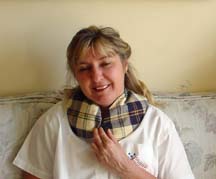 $30.95 Deep heat radiates into your body and you will feel instant comfort. We have sold thousands and none have been returned