Great Grandma and her friend in their Sunday best aprons.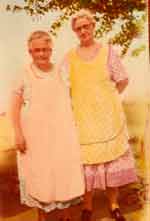 My Grandma's aprons job was to protect her dress underneath it. She wore her aprons while canning vegetables, pulling pies from the oven, picking peas, hanging clothes on the line or just wiping her hands off after doing the dishes. It was used for comforting her grandchildren, cleaning the crumbs off the table and many more tasks throughout the day.
She would go to the chicken coup and use her apron to carry the chicken scratch and scraps from her kitchen to her favorite chickens and then gather the green tan white and brown eggs using her apron as a bowl, bringing them into the kitchen to use for baking. If it was time for little chicks to be hatched and they weren't quite ready she would bring them into the oven to finish warming before hatching.
When company arrived Grandma would run around dusting the furniture quickly and before they came in the door she would welcome them and change into her Sunday apron.
Her apron was perfect to gather the wooden kindling for her old kitchen stove so she could bake her bread and then remove the hot pans from the oven when the bread was done.
During harvest time Grandma would bring in the ripe tomatoes, peppers, or anything that was ready to eat and canning into the kitchen. It always amazed me at how much she could fit into that small apron.
She would fill her apron with clothes from the clothes line outside. Her large apron pockets were where the clothes pins were careful placed, it always amazed me how many would fit into those pockets. Sometimes she had an apron for clothes pins only she would hang over her shoulder.
She would go out to the apple trees in the fall and carry in the culls on the ground for the applesauce that we would enjoy through the cold winter months.
When I was cold, Grandma wrapped her apron around me, I don't know if it was the apron or her love that kept me warm. Those big old aprons wiped away my tears or the sweat on her brow when she was canning over the hot stove in the summer months.
You can't find a substitute for the Old Fashioned Apron like Grandma wore. Newer modern aprons with the skinny rope around the neck and short thin front just aren't up to the job like Grandmas apron was.
My Old Fashioned Apron may wear out and need to be replaced, but the memories of that apron can last for generations.