Large heating pad
For the person who has everything including an achy body
Keep warm with a microwave heating pad that will go to your bones and radiate heat deep into your muscles and once you have tried one you won't use another.
Large Heating Pads Made in America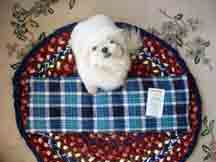 Large and Extra Large Heating Pads come in two sizes
Extra large heating pads 10" x 26" #801 $42.95
Large Heating Pad 10" x 18 1/2" #802 $34.95

Customer Comment
My newest heating pad arrived this morning, just ahead of a major snow storm. Perfect timing and beautiful flannel. I love, love, LOVE the pattern and softness. I will be cozy and warm no matter how much snow we get! Thank you so much! Lisa C. Denver, Colorado

You will love the way that the heat penetrates deep to your muscles and easy to use, just put it in the Microwave Heating and use it over and over. They will last and a flannel pillowcase comes with every one to help keep the heat in and easy cleaning. Just remove the cover and throw it in the washing machine and put it back on your pad for years of use just make sure you do not over heat it.

It can be used for heat or as a ice pack, just throw it in the freezer.

The soft flannel pillowcase comes in plaid or a beautiful floral material. the large heating pad can cover the length of your back depending on your size and it wraps around your knee, elbow or anywhere else you need that extra large size. A very long one that can warm your back or put it in your feet to keep your them warm at night. A bed warmer of the 21st century.

Any of our heating pads are perfect cat or dog heating pads.
Neck heating pad for neck and shoulder
We have sold thousands of neck heating pads and never had one returned, but have had more orders for their friends.

Neck heating pad to bring you comfort to a sore neck or shoulder or turn it upside down and you have the best lower back heating pad that fits your lower back perfectly.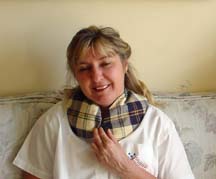 Neck Heating Pad $28.95
This one is great for your lower back neck knee chest shoulder and arm. Wrap this around your foot for Plantar Fasciitis. the best heating pad for Plantar Fascittis on the market. We make it with pockets to keep the contents from moving around and our special designed pad will sooth your neck shoulder back and knee. Wrap it around your lungs if needed, it wraps very well because of our design. All this in one Neck Heating Pad.
Neck cold pack for your migraine, knee or ankle sprain. We take these to shows and warm them up for people to try on and the first thing they say is aah and then they take one home, they are just that wonderful. They mould to your neck and shoulder and contents don't move because of our design you get even heat all around your affected area. Turn it upside down and you have a perfect fit for your lower back.
A washable pillowcase comes with every pad, if it gets dirty remove the cover and throw it in the washing machine and dryer then put it back on your heating pad. The soft flannel keeps the heat in and your heating pad clean. This pad evenly heats all around and is made with pockets so you get even heat. A native American remedy for body aches and pains. you can not find anywhere else. The Best Neck Heating pad you can find anywhere.
Use it hot for sore muscles or cold if needed, just put it in the freezer for a cold pack that won't drip and the cover helps keep the cold in also.
We have two sizes and both come with a washable cover that removes easily for machine washing. A comfortable one that fits anywhere on your body that you need more coverage. The removable cover not only keeps it clean but helps it last longer.
You will be pleased with how well it works and how good you feel when using it. We have many customers who have had theirs for years and you may use them over and over again, very easy to use and long lasting.
It can fit across your entire upper back or across the lower back. You will love the way it covers and distributes the heat evenly.
If you just want to warm up your hands and feet and are older we recommend the smaller square one.
Because of the small pockets in the large and extra large heating pad, it heats evenly and distributes the heat throughout your entire pad. A cordless one that is large enough it will fit over both of your knees or you may wrap it around you leg or arm. No electric cord because you heat it in the microwave. Use it over and over, we have had customers who have had their heating pad for years.
Natural therapy pack for your body. Massage therapist use this heating pad during massage treatments, same deep heat as a rock massage. Heating pads are perfect for keeping the chill off a cold night.
Every one comes with easy to follow instructions for you or for gift giving. Put it in your bed to warm it like old rock warmers or use your natural pad to keep rolls or food warm on the table. The square heating pad is perfect for this.
You may order Extra Rectangular Heating pad Pillowcases
10 x 26" $15.95
10 x 18 1/2" $10.95
Made in America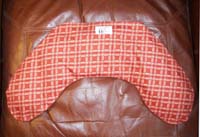 Neck Heating Pad with washable pillowcase is the most wonderful neck heating pad you will ever own, it gets heat to your neck shoulder arm or back
Turn it upside down and it fits perfectly on your lower back to help relieve lower back pain.
If you need a cold pack just put it in the freezer for affected areas that need ice without the drip. You may also use it for a migraine headache when needed hot or cold.
Use pad cold for sprains just wrap pad on any area of your body, an arm pad that wraps comfortably around you arm or leg for added comfort. It is the best for sore muscles, when you put it on you will instantly feel the comfort as it penetrated deep heat to the affected area..
A special designed neck heating pad you will not find anywhere else.
The neck pad has been used to wrap around your lung area for comfort. Some of our customers use this on the knee hot or as a cold pack, it wraps well around the knee or thigh. The separate pockets make it so the contents do not run all to the front, instead it distributes heat evenly around your neck.
A perfect heating pad for you or as a gift, it is the gift that will be used for someone who has everything, including a sore neck or shoulders.
The way this fits on your neck will feel so good you won't want to ever use any other pad after only one use. The design and fit of our neck pads will get you hooked on our style. Try it and you will become a believer.
Heating Pad has deep heat to your muscles and body
Use Heating Pad hot or Cold for Cold Pack for fever or migraine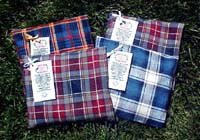 Square heating pads come with a washable pillowcase for only $13.95.
If your body is achy or sore use this pad and it will ache no more.
You may buy extra heating pad pillowcases for only $6.49. Our square heat pads are durable for many years of use. Take it to bed just like the old fashioned bed warmers, thy are much better than an electric heating pad as no cord is needed and the heat goes down slowly so not worries about electricity while your in bed. Great for Plantar Fasciitis.
Put it in the microwave and it will heat up then under your coat for warmth outside, we have customers who take them to football games to keep warm. It is surprising how long the heat will last when insulated. They will mould to your body because of the moveable contents.
Back heating pads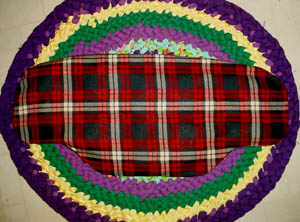 Back Heating Pad with special design to fit your back $36.95 Covers come in assorted plaid or floral flannel. An easy to clean flannel pillowcase that keeps the heat in and each order comes with one cover and you may order extra covers for $10.95 each.
Back heating pad has special design to mould to your back. Once you have tried our special designed back heating pad you won't use another.
It sooths the pain and ache away and you will love the way it fits your body. It also fits your upper body with ease.
Microwave it and it can be used over and over again, it lasts.
Turn neck pad upside down and you have the perfect lower back heating pad. See how well it will fit on your lower back to bring you the relief you need.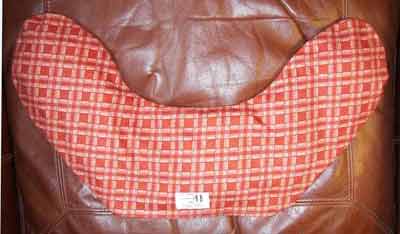 Lower back heating pad $28.95 or use it on your neck or shoulder, it slides over your shoulder and because of the contents moulds to your body.
Turn it upside down and it fits the curve of your lower back for deep heat and comfort and heats evenly throughout your heating pad because of our special design, made with pockets so heat is even throughout the pad.
It is great on your neck shoulder knee lung lower back or just anywhere.
Neck Knee and Lower Back Heating Pads.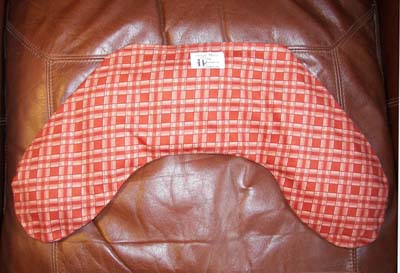 Neck heating Pad $28.95
The Cadillac of heating pads. Our special designed form to your neck shoulder knees and back and the inside won't move around because it is made with pockets so it is even heat.
Removable washable pillowcase keeps it clean while helping keep the heat in. It also makes the cold last longer also if you use it as a cold pack.
Customer Comments
Your heating pad is marvelous! Better than advertised. It came perfectly packaged.. I am SO pleased! I love the shape and design and was surprised to see that it had a removable, washable cover. I suppose it was advertised as such; but I must have overlooked it!
I will tell everyone I know! I have such pain in my lower back from severe arthritis. It also affects my knees. This is PERFECT! Thank you again, Judy Hi,
The heating pads arrived yesterday in good shape. I especially like the way the shoulder heating pad fits. Thanks, Fran
I wanted to tell you a story that happened last weekend. My family was in Duck Creek last weekend. I was at your booth and bought a neck heat pad. I put it in the freezer when I got home. Sat afternoon I fell and broke my wrist. Had to go to Cedar City hospital. The pad was perfect to lay against my wrist and I put the one end on top of my hand and the other end on top of my arm behind my wrist. So happy I bought that day.
Deanna B
Our nieces have confiscated our heating pads and we are in need of new ones! Thank you for a great product. My wife won't travel without them! Eric
They had a neck and square heating pad for nine years before ordering new ones and the nieces are still using them.
Customer Comments

You are right! My neck heating pad is wonderful, better than an others that I have had. Julie

I've had other heating pads before but never have they fit my body and comforted like these, thanks so much. Susan

Just a note to let you know we received the heating pad. My wife loves it! Thank you so much. Steve

I received one of your neck pads a couple of years ago as a gift... I have another use for you, LOL... Not only does it soothe aching muscles, but... I am extremely cold natured and my husband is NOT, so this is a TERRIFIC help to me to keep from being cold all over. I heat it up, throw it around my neck and VOILA, I'm not cold! It has worked wonders. I am gonna need to get a new one, LOL Karen K NQ

Love my neck heating pad! It is the best thing I have ever bought for myself. I use it on my neck and then turn it upside down and use it on my back. The washable pillowcase makes it so easy to keep clean. I will be a regular customer for gifts for friends and family, that will make me very popular. I know they will use it! George