Neck Heating Pad Made in America
We have sold thousands and never had one returned they are that good
Microwave neck heating pad $28.95
The most widely used neck heating pad by massage therapist
Even distribution of deep heat around you neck back shoulder knee or anywhere you put it because pockets keep the contents from moving around, they stay put.
It comes with a washable with soft flannel pillowcase so you leave it when you put it in the microwave to heat and when it gets dirt take it off and wash it in the washing machine. We include with each one instructions for easy use and gift giving.
They mould around your neck and shoulders for comfort and the design curves to your neck perfectly. A very good quality neck heating pad that is better than any other one on the market,
You may also order extra covers at $9.95
Our neck pad is reusable so use it over and over You will enjoy it for years if taken care of.
Neck Heating Pads, the best one out there.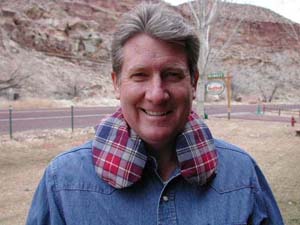 Neck Heating Pad $28.95
Neck Heating pad wraps comfortably around your neck Deep Heat evenly distributed all over neck pad because of special pockets
It can be used as a cold pack, just put it in the freezer .
This is the best neck heating pad ever. If you try it once and you will never want to use any other. We do shows where we demonstrate it and once they put it on their neck it is sold, they take one home.
It comfortably fits on your neck and shoulder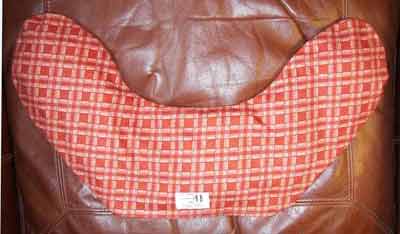 Turn it upside down and it fits your lower back perfectly and who does not have an ache on your lower back or your sciatic nerve that a heating pad won't sooth, especially ours.
Neck Heating Pads so comfortable you won't want to take it off.. Made in the U.S.A.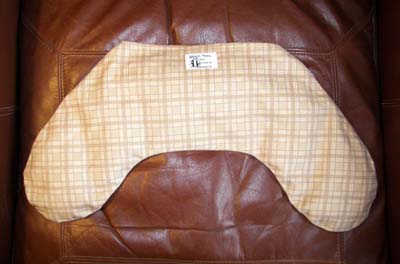 Wrap your neck heating pad around your arm, leg, ankle and foot or turn it upside down and put it on your lower back, it fits to the curve of your lower back beautifully
Microwave neck heating pads come with pockets and is our own special design for added comfort that curves around whatever part of your body that need that extra heat or cold.
Put it in the freezer and use as a cold pack when needed.
It comforts your neck and shoulder while relaxing it.
It is approximately 6 inches wide by 31 inches long and once you try ours you will not want another, our special design makes this the most comfortable one on the market.
Take it to work, on trips and use it throughout the day, it packs easily and is lightweight.
Use our heating pads over and over and you may order extra covers for $9.95 each
Added bonus is it comes with a washable pillowcase to keep it clean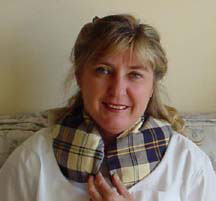 It is our own special design and because we make it with pockets it distributes the heat evenly for a deep heat to your muscles, ours is the best.
The only one with this comfort and a washable pillowcase available here at Stitch Thru Time and is Made in America
Microwave Neck Heating Pad, when you put it on your neck it soothes with deep heat $28.95
Take it to your bed and the heat slowly goes down while relaxing deep into your muscles and you will have no worry about using an electric heating pad with ours and it makes you feel good.
Use it on your neck back shoulder legs knees ankle and feet. It is great to use as a shoulder heating pad and upside down works great as a lower back heating pad.
Most widely used by massage therapists.
Neck Heating Pad with washable cover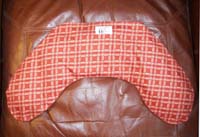 The only one on the market with this comfort and a washable flannel pillowcase and with our special design you get even distribution of heat around your neck shoulder knee or back,
They all include Instructions for easy use and gift giving. The best gift you can give anyone including yourself and it will be used.
You'll have to keep an eye on it or it will end up on someone else neck. We have many repeat customers who have had that problem.
You'll enjoy the way it feels on your shoulders and neck. The separate pockets help keep the heat even throughout the body where you use it.
. The easily removed and 100% washable cover not only keeps it clean and helps it to stay warmer longer.
You may use it on your lower back and other areas of your body that need that deep comforting heat.
Neck Heating Pad is the greatest

This will be your favorite Neck heating pad that you will enjoy for years. Washable heating pad cover is easily removed for easy cleaning

It is available with plaid or floral plaid pillowcase The Best one you will ever use and it will bring you comfort.

It wraps around your body wherever you put it and all our heating pads are made in the U.S.A.

Best Neck Heating pad you will ever have
Customer Comments
Thank you! I received the heating pad a couple of days ago and it feels wonderful! This is the first real relief I've had for my neck in months. I'm grateful and delighted to have discovered your product. Sincerely Judy, Stony Brook, NY
I received my order and am quite satisfied. All the pads and covers are beautifully done. I am using them for myself, my oldest cat, and giving some for Christmas gifts. Thanks so much!!! Happy Holidays to you and yours! Sincerely Vicki
OH! Thank you, thank you, thank you!!! Your heating pad is marvelous! Better than advertised. It came perfectly packaged.. I am SO pleased! I love the shape and design and was surprised to see that it had a removable, washable cover. I suppose it was advertised as such; but I must have overlooked it!
I will tell everyone I know! I have such pain in my lower back from severe arthritis. It also affects my knees. This is PERFECT! Thank you again, Judy
Hi, The heating pads arrived yesterday in good shape. I especially like the way the shoulder heating pad fits. Thanks, Fran I wanted to tell you a story that happened last weekend. My family was in Duck Creek last weekend. I was at your booth and bought a neck heat pad. I put it in the freezer when I got home. Sat afternoon I fell and broke my wrist. Had to go to Cedar City hospital. The pad was perfect to lay against my wrist and I put the one end on top of my hand and the other end on top of my arm behind my wrist. So happy I bought that day.
Deanna Bentz
I've had other heating pads before but never have they fit my body and comforted like these, thanks so much Susan The pad arrived today, I tried it already and it works terrific,
Thank you,
God bless you and yours,
Kathleen Our nieces have confiscated our heating pads and we are in need of new ones! Thank you for a great product. My wife won't travel without them! Eric
They had a neck and square heating pad for nine years before ordering new ones and the nieces are still using them
More customer comments
Hello, The heating pads arrived this weekend. They look and feel great. Thank you! Nurit
Happy New Year
Thank you, I really enjoyed the other three packs we purchased a couple of months ago. I gave one to my Dad for the holidays and after a few days my Mom complained to ask where her pillow is! They are fantastic and I am looking forward to trying out the neck heating pillow.
Have a great day!
Nuit
Greetings..
Got them today I think I'm getting the flu and I heated the neck heating pad up, okay it was a Christmas present for somebody else, but not anymore. it feels so good I love it. And my hubby likes it too cause it doesn't stink lavender like my other ones. Anyway, thanks so much and have a great holiday! Clara
You are right! My neck heating pad is wonderful, better than an others that I have had. Julie
I've had other heating pads before but never have they fit my body and comforted like these, thanks so much. Susan
Just a note to let you know we received the heating pad. My wife loves it! Thank you so much. Steve
I received one of your neck pads a couple of years ago as a gift... I have another use for you, LOL... Not only does it soothe aching muscles, but... I am extremely cold natured and my husband is NOT, so this is a TERRIFIC help to me to keep from being cold all over. I heat it up, throw it around my neck and VOILA, I'm not cold! It has worked wonders. I am gonna need to get a new one, LOL Karen K NQ Arkansas
Love my neck heating pad! It is the best thing I have ever bought for myself. I use it on my neck and then turn it upside down and use it on my back. The washable pillowcase makes it so easy to keep clean. I will be a regular customer for gifts for friends and family, that will make me very popular. I know they will use it! George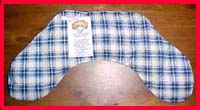 The response from our customers has been overwhelming you won't find the comfort you get with our neck heating pad in any other heating pad. Ours is the best!
And it lasts..
Neck Heating Pad pillowcases are available in Plaid or Floral material, when you check out you can order either the plaid or floral cover.
Order extra covers for $9.95 each
You'll be immediately comforted when you put your neck heating pad on your body
Heating pad with no cord.
You will be surprised how long it stays warm and when it cools down just throw it in the microwave and re heat it.
We do a few shows each year and demonstrate our neck pads by warming them up in a microwave and letting people try the on. When they put on the neck heating pad the one thing they say is AHHHH, then they take one home.
Old Fashioned Neck Heating Pad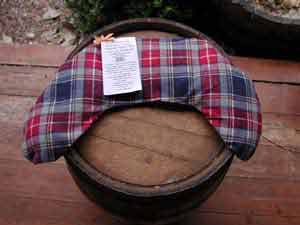 Put Neck pad in freezer for cold or use it for migraines and headache.
Great for wore muscles.
The pockets give you even distribution of the comforting heat and it is natural with no scent.
An American remedy for bodily aches and pains for ultimate comfort.
You are going to enjoy the way this feels..
Large Heating Pad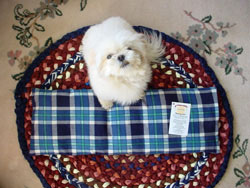 Extra Large Rectangular Heating Pad 10" x 26" #801 with pockets $42.95
Large Rectangular Heating Pad 9" x 8 1/2 " #802 6 pocket $34.95
This is the largest microwave heating pad with pockets and a removable washable pillowcase. It come in two sizes so choose the best for you or whoever you are buying it for. If it is an older person we like to use the #802 that is 9" x 8 1/2" but it is your choice.
The preferred one for adults dogs and cats. You will love this as much as your dog or car if not more.
Use this to cover both your knees or wrap it around your back or put it in your bed to warm you on those cold winter nights.
The large 10 pocket heating pad and smaller 18 1/ x 9" heating pad distribute the heat evenly because of the pockets and your contents won't all run to one side but lets you have heat all over where you need it. Pillowcase opening has a fold over closure to keep heating pad warmer longer. You may order extra large rectangular heating pad pillowcases for $10.95 each
You will love it and it is made in America.