Stylish Fashion Face Mask
Get a matching face mask in the same material as your apron
Made in America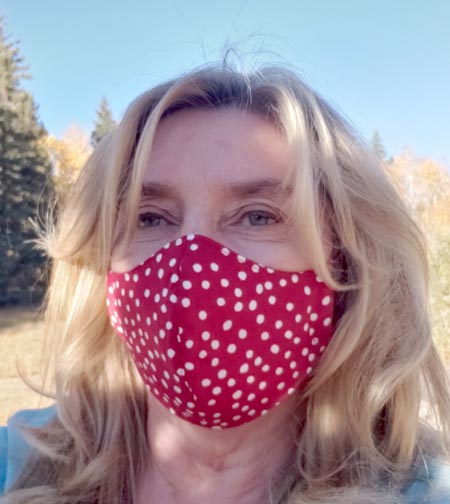 Retro Red polka dot Face mask F13 $14.00 mix and match fabrics
Face mask with four layers does not go in and out when you talk, is very comfortable. Soft adjustable elastic with a pull to adjust it smaller or larger for a comfortable fit. You have four layers of protection, two layers of cloth and two layers lined in between.
We make these in our pretty fabrics so why not enjoy yourself in a stylish mask that is comfortable. If there is a fabric on our web site you would like a face mask in call us at 435-648-2141 and we will make it up for you.
Just throw them in the washing machine for easy cleaning. Use it over and over.
F10 American Flag
F11 Red gingham
F12 Pink Polka Dot
F13 Red polka dot
F14 Blue Polka Dot
F15 Trimming the Tree
F16 Old Trucks
F17 Black polka dot
F18 Soda Fountain
F19 Cherry and polka dots
F20 Red Truck
F21 Old Fashioned USA
F22 Golden Autumn Leaf
F23 Old Fashioned USA
F24 Golden Autumn Leaf
F25 Christmas on the farm
F26 Pink roses and pink polka dots
F27 Lane of Liberty
F28 Angels on cream
F29 Blue angels with wings
F30 Christmas country church
F31 Hokus Pokus with purple spiders