A small company made in America
Women owned business
Stitch Thru Time has secure ordering for easy on line ordering.
If you wish to speak to someone in customer service or order over the telephone
you may call us at 435-648-2141.
E-Mail us at Stitch Thru Time
We are happy to answer any of your questions concerning our products. You may call us from 8:00 a.m. to 6:00 p.m. Mountain Standard Time Monday through Friday and Saturday 8:00 a.m. to 5:00 p.m. Closed on Sunday but you may order on line 24 hours a day 7 days a week.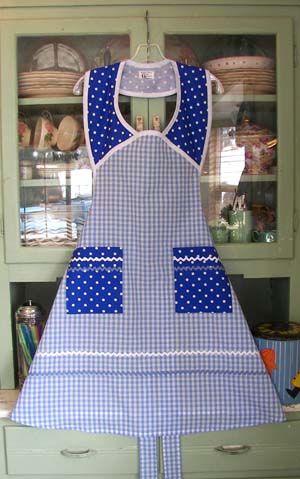 1940 Blue Gingham Blue Polka Dot apron 135 $49.95 ex large $54.95 girls 306 $39.95 child large $44.95
1940 in Blue Gingham with blue polka dot on pockets and top. Very retro looking while mother and daughter have fun together..
Blue and white rick rack with white trim you will enjoy in the kitchen for years and best of all it is washable.
Heating Pad has deep heat to your muscles and body
Use Heating Pad hot or Cold for Cold Pack for fever or migraine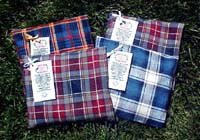 Square heating pads come with a washable pillowcase for only $14.95. If your body is achy or sore use this pad and it will ache no more.