Order Information Stitch Thru Time
You may order on line at our secure ordering page or,
Call us to order over the telephone at: 435-648-2141.
There is a 20 percent restocking fee unless otherwise specified
If you have any questions concerning sizes call us at 435-648-2141. Our customer service representative will be happy to help you.
Woman sizes are approximately:
Smaller than 10 is a petite
size 10 - small
Size 12 to 14 - medium
Size 14 to 16 - large if you like it fitting loosely size 14.
Size 18 - extra large
If you are larger than 18 please call us to talk about sizing.
Please keep in mind apron sizes are not exact. You will have clothes underneath. All of our women aprons come with long apron ties.
These sizes may vary depending on body shape, remember these are aprons not form fitting dresses. We make different sizes as we know every body is different and not one size fits all.
1940 Child apron measurements from shoulder to bottom of aprons.
Waist measurement below of apron does not include apron ties.
Child, girl apron sizes:
Petite around 20" height shoulder to bottom of apron by 16" apron width
Small around 26" height shoulder to bottom of apron by 19"apron width
Large around 30"height shoulder to bottom of apron by 23"apron width
If you have any questions about our heating pads or aprons we will be happy to help you, just call us.
We accept Visa Master Card and Discover Card and American Express.
If you are tall or short give us a call when you order and we will be able to adjust your apron. That is the advantage we have since we make our aprons here in the U.S.A.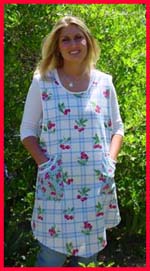 Our model is wearing the Aunt Violet apron. We have it in our differ ant apron styles, you may see it in the Grandma apron in yellow polka dot cherry which is available for those who like cherries.