Heart Apron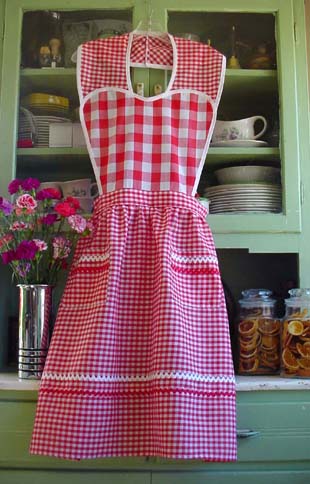 Red gingham Heart apron number 116 $64.95, extra large $69.95, girls 116 $53.95, size large $58.95. This style is from the 1950s.
White red blue pink or yellow aprons from the 1940s 1950s collection. If you want a vintage look like your grandmother used to wear you will enjoy this one very much. The cabinet the apron is hanging on is a retro Montgomery Ward cabinet.
Made in America
Our customers call this the I Love Lucy, Aunt Bee and June Cleaver apron.
White heart apron

All white heart aprons 1075 $64.95 extra large $64.95, girls 70001 $53.95. Our pretty heart style are in all white with the same long apron ties and white rick rack on bottom of darling nostalgic style with large apron pockets. This can be ordered with matching girl sizes or you can mix them up with many of our other pretty fabrics. Available in child sizes. The above is shown in women size small.
Heart aprons white red pink yellow gingham and pink floral.
Heart apron retro I Love Lucy and June Cleaver old fashioned aprons for girls mom and women.