Go to Stitch Thru Time Instagram to see our customers tell you how wonderful the neck heating pad are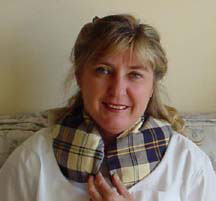 Special custom designed Neck Heating Pad with pockets for even heat that wraps around your neck shoulder arm leg and foot.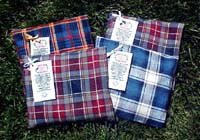 Heating Pad
8" x 10"Heating Pads with washable pillowcase $14.95
These are just a few of the many Heating Pad comments from customers.
I received your heating pads a few days ago. I heat them up in the microwave and place in the bed (at the feet) before I go to bed. They warm up the bed and lets me go to sleep without feeling cold. I don't have to worry about going to sleep with an electric heating pad. They are great. Thanks for the fast service. Daniel
You are right! My new neck heating pad is wonderful, better than any others
that I have had.
Julie
Hello Lorraine, The heating pads arrived this weekend. They look and feel great. Thank you!
Nurit
I wanted to tell you a story that happened last weekend. My family was in duck creek last weekend. I was at your booth and bought a neck heat pad. I put it in the freezer when I got home. Saturday afternoon I fell and broke my wrist. Had to go to cedar city hospital. The pad was perfect to lay against my wrist and put the one end on top of my hand and the other end on top my arm behind my wrist. So happy I bought it that day.

Deanna B
The pad arrived today, I tried it already and it works terrific, Thank you, God bless you and yours, Kathleen

Just a note to let you know we received the heating pad. My wife loves it! Thank you so much.
Steve
Thank you! I received the heating pad a couple of days ago and it feels wonderful! This is the first real relief I've had for my neck in months. I'm grateful and delighted to have discovered your product. Sincerely,
Judy, Stony Brook, NY
My son broke a bone in his hand and had to cold pack it. Clara
Greetings..
Got them today--I think I'm getting the flu and I heated the neck heating pad up
(okay it was a Christmas present for somebody else, but not anymore!) it
felt so good--I love it. And my hubby likes it too cause it doesn't stink
lavender like my other ones. Anyway, thanks so much and have a great

Neck, back, arm sciatic nerve heating pad or anywhere else it hurts. You may also use them cold.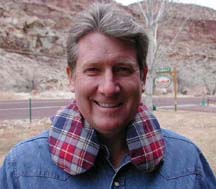 Neck heating pads $30.95
they feel oh so good. The soft washable flannel cover keeps the heat in while keeping your pad clean. You may also order extra covers at $9.95 each.
When we take this to a show and warm it up as soon as someone tries it on they are sold, it is just that comfortable and feels that good. All of our line of heating pads are good quality and come with a washable pillowcase for easy cleaning.
I love my heating pads! I originally bought one a long time ago at a store on Main Street in Park City. I have been using it for years until my kitten got to it! I am so glad I found your web site! I use heating pads about 2-3
hours a day so they are perfect for me!
Thanks and have a great weekend!
Stacey
Red gingham half apron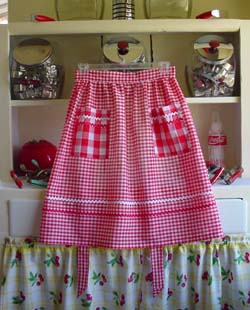 Retro Red Gingham women half apron 303 $52.95 extra large $57.95, girl half apron #406 $45.95
Retro red gingham with large gingham pockets. Red and white rick rack will make this one of your favorites in the kitchen. Pockets come in a larger red and white gingham with white and red rick rack The bottom has white and red rick rack on it to match the pockets. Old fashioned half aprons that you will enjoy in the kitchen and around the house.
Washable to last for a very long time.
Comments from customers about our aprons
Merry Christmas!

Just wanted you to know how thrilled I am with my new aprons! They are exquisitely made, perfectly beautiful! I must admit that after I ordered them, I had some guilt about the price, but after seeing and wearing them I couldn't be happier...good investment...I will be wearing them for many years to come! Thank you so much!
Sincerely,
Karen K

I received the Aprons I ordered this week, they are as beautiful as they appear on the web site. I can't wait for my granddaughters birthday to give them to her. I think she will get a real kick out of us having matching aprons. Also the Christmas cookbook is very awesome, we will have lots of fun with that. Thank you soooo much. Heidi M
Good Morning!
This morning I got up to do my usual ironing, I got my apron that you had made, to iron and put away, and I wanted to write you and thank YOU so much for such a beautiful made apron. My mother was always such a beautiful and picky seamstress and when I showed her OMG she thought it was one of the best she had seen in a VERY long time. So in my heart you reeeaaaallly passed the test because she is a tuff cookie to crack...lol...
So Thank you so much and I will be back to order more. You do a beautiful job and what you do is worth every penny. The quality is outstanding.
Thank so much Sincerely
Becky G
Dear Lorraine, I ordered the Rose Garden Apron for my mother. It arrived in perfect time for Mother's Day and it was beautiful she loved it.
Thank you for your prompt service and quality craftsmanship.
Sincerely, Heidi M
Hi, Lorraine! I received the beautiful 4th of July apron and love it!
I am going to order a couple of others.
Thank you and
the XL fits great. Lynn
Hello Lorraine,
I received my strawberry apron today and it fits beautifully. It fits perfectly across my chest area and the length is just perfect. I am so pleased with it and the quality of it's workmanship. Thanks to you and your daughter! I also love my head wrap. I look like a real 1950's housewife. LOL Take care and thanks again. Judith M
Thanks so much for getting the order out so quickly. The apron is adorable and she loves it. She had her birthday party at the Young Chef's Academy and this was the perfect gift.
Thanks again for your attention to the order.
I got them on Saturday. They are beautiful!!! I wore mine all day.
I'm excited to give the other to my daughter this week. Thank you very much and Merry Christmas!!!! Laurie L
Dear Lorraine,
The mother daughter aprons arrived yesterday, and as I expected from the photos on your web site, the workmanship is impeccable! I can't wait to give them to my grand-daughter and daughter-in-law for Christmas!! They are so adorable that I'm taking them to work with me to show my co-worker.
Thanks so much,
Jackie S
Hi, I just wanted to let you know we received the order in time for Valentines day and I am so happy with it. It is exactually what I wanted and the quality is beautiful. My daughter put it on and wore it all evening.
Thank you,
Suzanne Stony Brook, NY
I received my 4 beautiful aprons today and they are SO GORGEOUS that I almost do not want to wear them! I ordered 4 different styles in 4 different patterns & each one is as beautiful as the other. I cannot pick a favorite. They will bring me much joy to wear at home while cooking for my family.
I plan to order more in the future as gifts for special women in my life. Thank you so much for a wonderful handmade product. Keep up the good work!
thanks again, Gale
Just wanted to let you know I received my apron. My apron is so lovely. I put it on last night and it fits wonderfully. I wanted to get away from an apron I had which puts stress on my neck. The grandma apron is perfect and I don't even feel like I have an apron on. I enjoyed cooking, doing the dishes and watering my garden last evening after a long day at work - could it have been due to my wearing your apron - perhaps! What great quality work you do!
Midori S, Seattle, Wa.
Hi Lorraine,
Wanted to finally take a moment to tell you I received both of the aprons (holiday one in December) and they are gorgeous!
Thank you, Barbara
Dear Lorraine,
Thank you thank you! I received my beautiful aprons...one Harvest and one Halloween, and a set of those also for my daughter which I have since sent to her... As always, they are wonderful!! In fact my youngest daughter just popped in the door...home from college for the weekend.. I am wearing my Harvest apron today and the first thing she said was "Oh Mom! You look so homey! which of course melted my heart.
I have always said that putting on your aprons is like being wrapped in the wonderful feeling of cozy kitchens..coffee with friends and family...homemade dinners and dessert..just a wonderful feeling...Everyone here loves them and I have many, so that when family is here for a dinner etc. the ladies grab them and put them on.. as we scurry around the kitchen.
I look forward to getting my new aprons, but love the ones that I have ordered in the past from you. They never wear out and I use them every day.
|I am sure I will be ordering soon again.
Thank you Again and Have a Happy Halloween!
Noreen Welch
Hi Lorraine,
Received the aprons yesterday and they are so beautiful. My Granddaughter will not want to take it off once she gets it on. Your web site is really great too. You offer so many vintage patterns for the aprons and it really brings back memories of the olden days when I was growing up.
You are the best. Thank you.
Nancy, New Hampton, Iowa
Dear Lorraine,
The mother daughter aprons arrived yesterday, and as I expected from the photos on your web site, the workmanship is impeccable. I can't wait to give them to my great granddaughter and daughter in law for Christmas. They are so adorable that I am taking them to work with me to show my co workers.
Thanks so much,
Jackie S Springfield, Massachusetts
I for my apron today and I LOVE it!!! So cute and perfect fit.
THANK YOU!
Vanessa T Escondido, California
Hi Lorraine,
Sorry I haven't got back to you sooner, we have been on a holiday...anyway, thanks so much for the lovely aprons. They are just beautiful and so well made. I know my friend is really going to love her present. Thanks again. I'll probably be in touch again.
Sincerely, Rowena
I just received my two aprons! I absolutely LOVE them! Talk about a wonderful blast from the past! And the fit is perfect, thank you for changing my size request. If you ever need some feedback I will attest to the fact that your workmanship is top-notch and the pictures on your web site are a perfect representation of the product! Thank you SOOOO much! It's as if my mom is back in the kitchen! Irene A, California
I received my 1940's apron and Lucy wrap the other day and I love them! I have an apron collection and this one is already the favorite in the family. I'm planning to order several more soon as I have four daughters who are wanting their own and of course I want to add to my collection. Thank you so much and may the Lord continue to prosper your business.
B Houston, TX
Hi Lorraine, the apron came today. Its absolutely gorgeous. I kept all the paper and twine you wrapped it in and rewrapped it. Tomorrow at noon it goes to the recipient.
Thank you so much and you do beautiful work.
Ken in NYC
I received my apron, and I LOVE IT! It could not be any more perfect.
Thank you so much,
Carrie
Dear Lorraine,
I wanted to write and tell you that all of the aprons have arrived now. As always they are so wonderful. What a treat to open the package and find each beautifully packaged in paper and string..each like a surprise package...so sweet.
I have already worn both of my Grandma aprons and have had many comments on them, such as, "How wonderful!" and "Where did you get those?" You may be getting many other orders!
Of course I am saving my "carolers apron" for the Christmas season and cookie baking time. I can't wait to wear them!
I wanted to tell you also that I had sent the Grandma apron and the two little matching smocks to my daughter and her two darling little girls... They absolutely love them all, and look so sweet in them!
I can't say enough about these lovely aprons... Not only are they so useful, but they transport me and those who see them, into a simpler and sweet time that is filled with the memories of fragrant kitchens, happy faces and warm hugs!
You do wonderful things!
Until My Next Order!
All The Best, Noreen
Lorraine,
I received the apron on Saturday and it is outstanding. The material is just what I envisioned and the workmanship is beautiful. Thank you for such prompt and efficient service.
Regards, Marilyn, Fitchburg, MA
Lorraine,
The apron is gorgeous and fits perfectly. Quality job. Thank you so much. I couldn't be more pleased.
|Cindy, Benbrook, Texas
Hi Lorraine,
I for the aprons today! They're so beautiful! Even better than the photos. Thank you for sending them to me.
Kathryn
Lorraine,
The aprons are beautiful. I'm sure my wife will love them.
Thank you, Gary
Just wanted to let you know that I received my aprons. They are exactly what I had been searching for! Both fabric patterns are beautiful. I know I will enjoy wearing them while cooking and baking. I plan to purchase a rack with hooks. I will display these gorgeous aprons in Gram's farmhouse kitchen when they're not being worn.
Sincerely, Sue
I didn't get a chance to e-mail you last week but the 1940s pansy apron arrived and I love it, love it, love it.
It came last Friday and I wore it while my girlfriend and I canned something like 40 pints of tomatoes, 12 quarts of dill pickles, 20 pints of bread and butter pickles, 20 pints of pepper jelly and 6 pints of pickled jalapeno peppers (that last one's an experiment). 10 hours and more peelings than I care to mention and we had some pretty darn pretty jars on the counter!!!! And sticky stuff all over everything else. SHE drooled over the apron. I showed her the other three I own and sent her your link so you might get another MN order soon.
Many thanks, Jane R
Hi Lorraine,
Just a quick e-mail to let you know our aprons arrived safely yesterday. I LOVE THEM, and my little toddler looks so cute in her 1940's red gingham. Thank you so much. I enjoyed talking to you too! Look forward to hopefully needing another apron one day!
Thank you, Rowenda Scott, Australia
I just wanted you to know that I received the apron last Thursday --- just in time for Saturday's bridal shower. It was a hit!
Thanks again, Kathleen
Lorraine, Just wanted to let you know my Nanny loved the apron - thanks so much!! Tami
MY APRONS ARE ABSOLUTELY BEAUTIFUL. They ARE WORTH EVERY CENT. Thank you, thank you,
Kathleen B
The 1940 and Grandma's aprons arrived today. Well, they arrived yesterday but I had to go to the PO to pick them up today; Lovely. Great workmanship and just beautiful patterns. The pansies are great. I may order a 2nd one later for my mom on Mothers Day!
Thank you!! Jane R
My apron is beautiful........thanks so much.....after Christmas, I may have to have a heart one too!!
Suzanne
I am so glad I found your web site and ordered your Rose apron. Mine
arrived a couple of days ago and was an instant hit.
It is gorgeous, I really love it . The floral pattern is very pretty and
the wide yellow trim and the yellow gingham pockets with rick-rack trim
are a beautiful contrast. I have worn aprons and smocks all my life but
I have never had one custom made for me as I said to you when I called
you to discuss details.
Victor, California
Dear Lorraine,
As usual, all of the aprons that I've ordered and received are absolutely wonderful...again, each wrapped and tied with string..such a sweet package..each one.
The little girl's aprons..to match their mommy's, are so sweet!
I can't wait to order some aprons for Christmas.
Thank you Again,
Noreen
This comment is about the celebration in Charleston, West Virginia for the Veterans of D-Day. There were 50 volunteers that wore our 1940's apron.
Dear Lorraine,
The aprons were a HIT and are mentioned in so many of the "thank you's" we have
received. We had over 1000 in attendance and the night was magic. The WWII
Veterans were so appreciative. I will send you pictures of the D-Day celebration.
It was so funny at the party because an announcement was made
that anyone wanting to dance and needing a partner was to just find a woman in a gingham apron and that lady would dance. The orchestra was wonderful, playing all the hits from the 40s.
Once again, thank you so much for all you did to make our party a success!
You will hear from me soon.
Very Sincerely, Stephanie
My grandmother always wore an apron like yours and I have been looking for a long time. I bought my sister an apron last year for Christmas, and her first words were (" but it's not like Grandma Smith's"). Thanks a lot, I look forward to wearing an apron like Grandma's.
Mary
I received my order a while back I purchased a 1940's apron and a granny
apron. called and talked to a very very nice lady on the phone (I can not
remember her name) I was really impressed by her and the fact that the
aprons came in sizes and i was really overjoyed to find out that you can
make them a little bit more custom by your height and even your bust.
I have lots of aprons but not the beautiful old fashion ones that I have searched for. Now have 2 and the not only fit perfect ( I cant even find clothes that fit my very short waist) but are so pretty everyone loves them. I have never been so impressed by any one this way. Product, service, style, everything is awesome!! The only thing is that wish I could know is who I talked to so that she could be recognized. She was darling!
Thank you so so much
Ashley
Hello Lorraine!
Lorraine,
My Violet apron is a beauty! I have it on right now! It covers so well, I love the way it sits around the neck, it is just perfect. I don't know how you made such a wonderful pattern! But, I'm sure glad you did!
Bonnie, Flat Rock ,Michigan
I received the apron, it is adorable, my granddaughter will love it, thank you so much. Justene
Dear Lorraine,
I wanted to tell you that my wonderful aprons arrives this morning and I just love them! They were wrapped in such a lovely way,which made opening each one such a treat for me. They are just lovely, and so beautifully made! They are just like the ones I remember from the kitchens of my darling mother and grandmas!
I am looking forward to ordering some others in June and I have list of people with birthdays coming up and through the year. These are going to make the nicest gifts!
Is you violet rose apron available in different prints. I would love to have two more of that style. And of course I am looking forward to ordering your Christmas aprons later and some for my little grand-daughters. This has just been such fun..
Thank you!
Noreen
I love my new apron, it reminds me of I love Lucy or June Cleaver of Leave it to Beaver. It is well made and I know I will enjoy it for years.
Thanks again, Susan, New York, NY
I just wanted to let you know that I'm so thrilled
with my new apron. The fabric is so charming and the workmanship is perfection.
It may sound ridiculous, but I've been looking for
probably 10 years. My old apron was so worn, the
fabric was disintegrating. I always knew what I
wanted, but could never find one that I liked until
the day I inserted "pattern" in my web search and
stumbled across your web site.
Again, my thanks.
Colleen
Greetings..
Got them today--I think I'm getting the flu and I heated the neck heating pad up
(okay it was a Christmas present for somebody else, but not anymore!) it
felt so good--I love it. And my hubby likes it too cause it doesn't stink
lavender like my other ones. Anyway, thanks so much and have a great
holiday!
My son broke a bone in his hand and had to cold pack it. Clara
You are right! My new neck heating pad is wonderful, better than any others
that I have had.
Julie
I hurt my hand and had to cold pack it, the square bag just fit over his hand comfortably, the ice was too hard and bitter cold. You bag was perfect. Thanks.
Ann
I've had other heating pads before but never have they fit my body and comforted like these, thanks so much. Susan
I love my heating pad, I need four more to give to my kids for Christmas, they fight over mine so I know they will love it. Emily
Thank you so much for your help with my sister's order. She is thrilled with the corn bags and will remain a loyal customer. She has Raynauds disease and so her hands and feet are cold 24/7. The bags stays even warmer then most because of the covers,
So again "thanks".
Lori
West Cornwall CT.