Made in America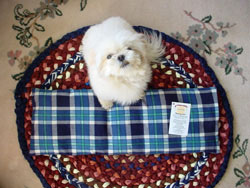 Large Rectangular Heating Pad 10 x 26 inch numbere 801 10 pocket $42.95
Large Rectangular Heating Pad 9 x 8 1/2 inch number 802 6 pocket $34.95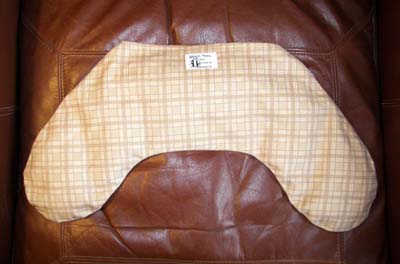 Microwave Neck Heating Pad contours to your neck $30.95
They all come with washable soft flannel cover, choose floral or plaid when ordering.
Instructions included and it makes the perfect gift, a gift that will be used and appreciated and most of all used.
This is the gift that is for everyone including those with achy bones. Treat yourself.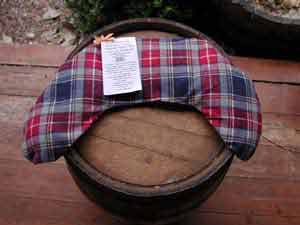 $30.95 each we have sold thousands and never had one
Deep heat radiates into your body, you will feel instant comfort. They measure approximately 6 inches wide by 31 inches long and are curved. Some of our customers take them to work and use them while they are at their computers.
We make ours with pockets so the contents distributes evenly throughout the area for a deep even heat.. It wraps around your sciatic nerve really well to help sooth the pain. Use it for sprains it wraps around all parts of your body comfortably.
Neck or lower back heating pad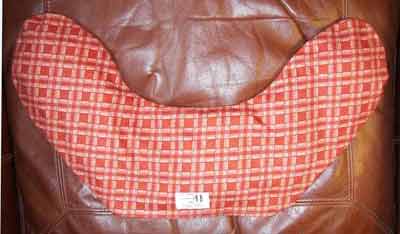 Turn your neck heating pad upside down and it fits the curve of your lower back for deep heat and comfort.
It heats evenly throughout because of our special design we make with pockets so the heat is evenly throughout.
Customer Comments
Thank you! I received the heating pad a couple of days ago and it feels wonderful! This is the first real relief I've had for my neck in months. I'm grateful and delighted to have discovered your product. Sincerely Judy, Stony Brook, NY
I received my order and am quite satisfied. All the pads and covers are beautifully done. I am using them for myself, my oldest cat, and giving some for Christmas gifts. Thanks so much!!! Happy Holidays to you and yours! Sincerely Vicki OH! Thank you, thank you, thank you.
Your heating pad is marvelous! Better than advertised. It came perfectly packaged.. I am SO pleased! I love the shape and design and was surprised to see that it had a removable, washable cover. I suppose it was advertised as such; but I must have overlooked it!
I will tell everyone I know! I have such pain in my lower back from severe arthritis. It also affects my knees. This is PERFECT! Thank you again, Judy Hi,
The heating pads arrived yesterday in good shape. I especially like the way the shoulder heating pad fits. Thanks, Fran
I wanted to tell you a story that happened last weekend. My family was in Duck Creek last weekend. I was at your booth and bought a neck heat pad. I put it in the freezer when I got home. Sat afternoon I fell and broke my wrist. Had to go to Cedar City hospital. The pad was perfect to lay against my wrist and I put the one end on top of my hand and the other end on top of my arm behind my wrist. So happy I bought that day.
Deanna B
The pad arrived today, I tried it already and it works terrific,
Thank you,
God bless you and yours, Kathleen
Our nieces have confiscated our heating pads and we are in need of new ones! Thank you for a great product. My wife won't travel without them! Eric
They had a neck and square heating pad for nine years before ordering new ones and the nieces are still using them.
More customer comments
Hello, The heating pads arrived this weekend. They look and feel great. Thank you! Nurit
Happy New Year
Thank you, I really enjoyed the other three packs we purchased a couple of months ago. I gave one to my Dad for the holidays and after a few days my Mom complained to ask where her pillow is!:-) They are fantastic and I am looking forward to trying out the neck heating pillow. Have a great day. Nuit
Greetings.. Got them today, I think I'm getting the flu and I heated the neck heating pad up (okay it was a Christmas present for somebody else, but not anymore! it feels so good I love it. And my hubby likes it too cause it doesn't stink of lavender like my other ones. Anyway, thanks so much and have a great holiday! Clara
You are right! My neck heating pad is wonderful, better than an others that I have had. Julie
I've had other heating pads before but never have they fit my body and comforted like these, thanks so much. Susan
Just a note to let you know we received the heating pad. My wife loves it! Thank you so much. Steve
I received one of your neck pads a couple of years ago as a gift... I have another use for you, LOL... Not only does it soothe aching muscles, but... I am extremely cold natured and my husband is NOT, so this is a TERRIFIC help to me to keep from being cold all over. I heat it up, throw it around my neck and VOILA, I'm not cold! It has worked wonders. I am gonna need to get a new one, LOL Karen K NQ Arkansas
Love my neck heating pad! It is the best thing I have ever bought for myself. I use it on my neck and then turn it upside down and use it on my back. The washable pillowcase makes it so easy to keep clean. I will be a regular customer for gifts for friends and family, that will make me very popular. I know they will use it! George