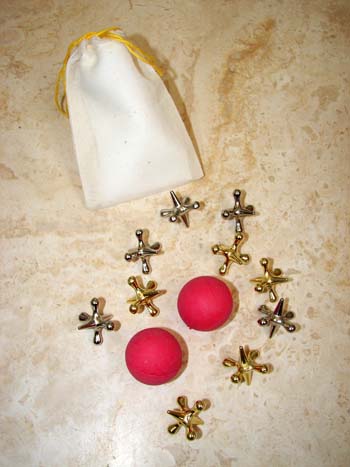 2 Rubber Balls, these are real rubber like jacks used to be in the 1950s and they also come with a white cotton carrying pouch for $7.49
These are large Jumbo Jacks, not the tinny ones they make now days. They are like the ones you used to play with at recess. Very good quality and they are made in America, just like you they used to make.
There are 5 gold colored, 5 brass colored and 2 rubber balls and they come with a cotton pouch to carry them in, just like you remember when you were a child.

A perfect gift for your Christmas Stocking Stuffer and you can teach them how to play with them. They are also very good for eye and hand coordination.
Made in the U.S.A.
You'll love the way they feel. Two Rubber balls that are real rubber, not plastic and they bounce good.