1948 Ruffle Matching Moth
e

r Daughter Ruffle Half Aprons
1948 Ruffle Red Gingham half apron ladies 40031 $62.95 extra large $67.95, girls 4049 $60.95.
Shown with round pockets but you can get all of the 1948 style with round or square pockets. Red gingham with red gingham apron ties, very retro red gingham but timeless with white trim and rick rack.
Soft ruffles surround this and it is washable and made in America.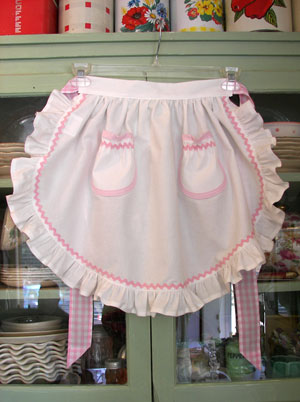 1948 Ruffle 40012 $62.95 extra large $67.95 girls 4035 $60.95 The one above is shown in a child size. It comes in a mother and girl style with pretty round or square pockets pink trim and pink rick rack. Very pretty and a popular apron for the wedding apron servers.
This pretty half apron comes in all our other fabrics below also.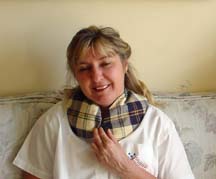 Neck heating pad $30.95
It moulds to your neck and shoulders with deep heat.