Large Heating Pads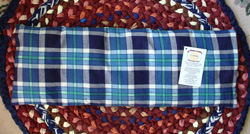 Extra Large heating pad 10" x 26" number 801 $42.95
Large heating pad 10" x 18 1/2" number 802 $34.95
Large microwave pad covers your back, knee, elbow, leg or anywhere you need heat or cold It will cover your parts of your body or use as a bed warmer. You will be surprised how long they stay warm. You will get even warmth throughout because we make it with pockets so the contents stay put and don't go to one side.
Covers your body where it needs it or just keep you warm deep into your muscles You may order extra pillowcases, they come in plaid or floral flannel.
Extra cover 10 x 26" $15.95
10 x 18 1/2" $10.95
Just let us know if you want a plaid or floral cover when ordering.
If give you deep warmth to your muscles and the washable pillowcase helps to keep the warmth in and even more wonderful is that if the outside gets dirt just take off the cover and wash it. You will love it.
Large Microwave Heating Pads distribute heat evenly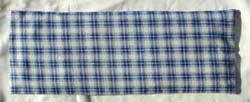 They come with a washable pillowcase of flannel in plaid or pretty floral, we have customers who have used ours for years, use them over and over.
The washable pillowcase helps keep it clean and keeps the warmth in to last longer. Each pocket inside is sealed to keep the contents from moving for even distribution of hot or cold.
Just put it in the microwave and then onto your body, or it can be used as a cold pack. Just throw it in the freezer. You might want to take the pillowcase off and put it in a plastic bag and after it has gotten cold put the cover back on and you will have comfortable a cold pack.
There is no electrical cord, this is wonderful for you or as a gift for the person who has everything, including an achy body.
The best large heating pad with even deep heat that penetrates into your body and muscles.
Square heating pads for comfort of your sore back & body
Deep warmth to your muscles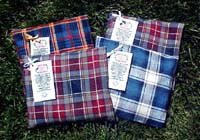 Square Heating Pads $14.95
Choose from plaid or floral soft flannel pillowcases. 1 pocket microwave pad has a soft removable pillowcase to keep the insides clean, the flannel feels wonderful next to your body and when it gets dirt just take the pillowcase off and wash it.
Use it as a bed warmer, hand warmer or foot warmer and it is portable so you can take it anywhere. We have customers who warm it up and put it inside there coats and take them to football games. You will be surprised how long they stay warm when insulated inside a coat of the covers of your bed.