Hanger for easy hanging on each stocking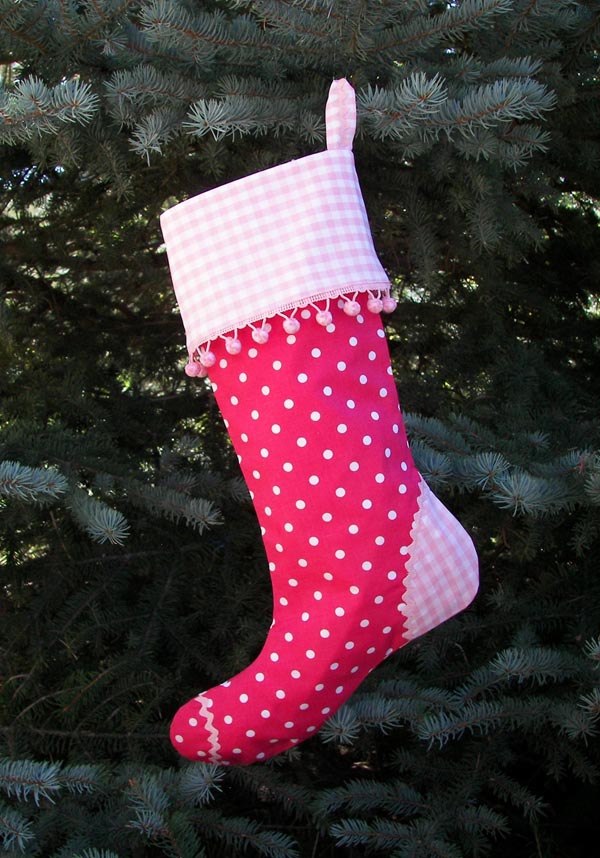 Pink Polka Dot Pink Gingham Christmas stocking number 702 $39.95
Elegant in pink polka dot with pink gingham on the heel and top. Pink rick rack with pink pom poms contrasting with the pink polka dot.
Hang this beautiful Victorian style pink polka dot stocking on your mantle or tree. A beautiful Christmas decoration you will enjoy for many years. Washable and made in the USA.
Pink polka dots and pink gingham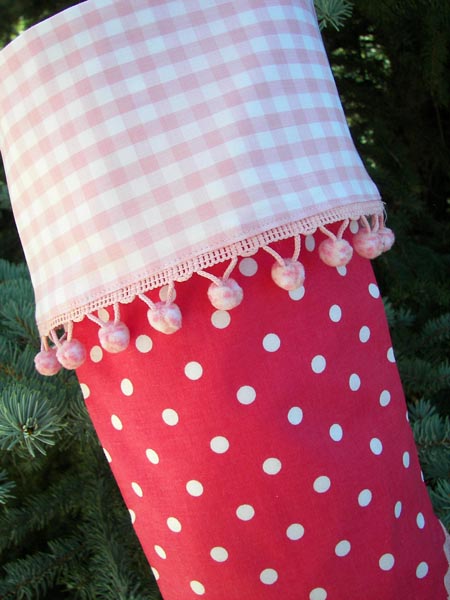 Close up Pink Polka Dot and Pink Gingham
Beautiful pink with white polka dots. Pink and white gingham on the top and heel of this pretty Holiday Stocking with pink pom poms around the top. Pink rick rack on the heel and toe with pink rick rack.
This is are decorated on both sides so you can hang them in either direction.
Santa Christmas Stockings are made in America
Large red gingham Christmas stockings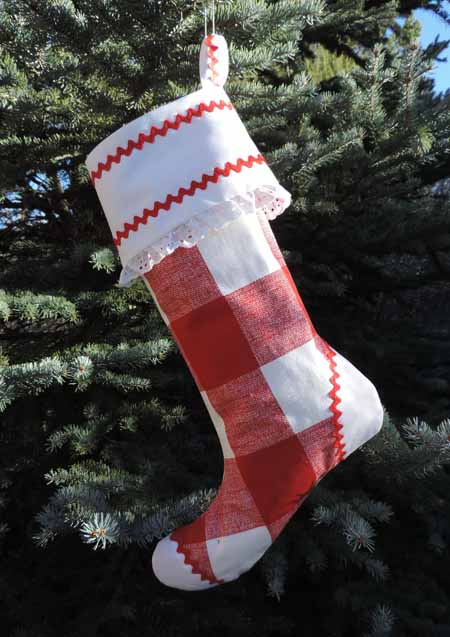 Red Check American made Christmas stockings 719 $39.95
Red and white large gingham with white toe and heel trimmed with red and white rick rack. The top of this has red gingham and lace trim around it. Washable Stockings to last for years and fully lined. A keepsake to use for a lifetime. They are decorated on both sides so you can hang them in either direction.
All are made for many holiday seasons of enjoyment, an heirloom to pass on. It will be an all time favorite for an old fashioned Christmas for you or you pets. You may also decorate your home for the holidays as we have many styles to choose from.
Blue polka dots and snowflakes Christmas stockings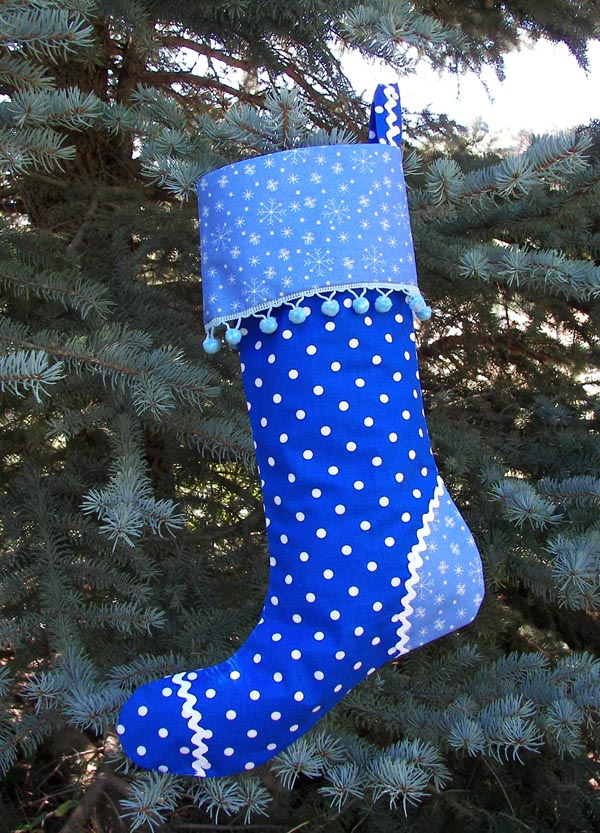 Retro blue and white polka dot Christmas Stocking 704 $39.95 Victorian stockings with blue and white snow flakes on the top and blue pom poms. White rick rack accent for an old fashioned stocking that may be handed down as an family heirloom.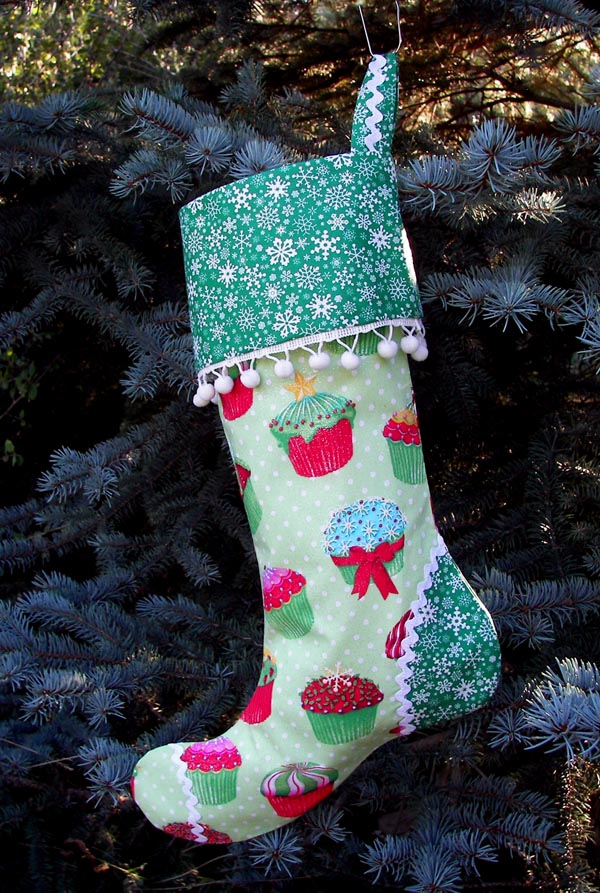 Christmas Cupcake with Snowflakes on heel and top Christmas stocking number 712 $39.95
Victorian stockings with beautiful decorated cupcakes. Green polka dots background. Christmas cupcakes with peppermint frosting, pink frosting, blue frosting and snowflakes. Just darling.
Everything you think of during the Christmas holidays. White rick rack and white pom poms decorated with small crystal like sparkles on this pretty material for a Christmas stocking you will love.
Large and ready to hang for Santa. Made in America.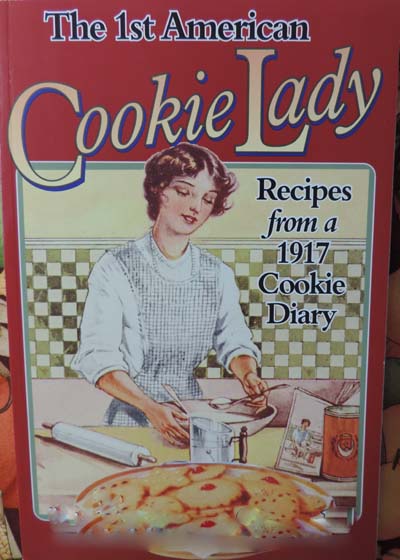 1st American Cookie Lady Cookbook $16.95
The 1st American Cookie Lady is based on a fascinating mystery. In 1917 Anna Cookie Covington set out to record all her favorite cookie recipes as a gift to her daughter because no published cookie recipe books existed at that time. Strangely her 76 page handwritten personal cooking diary was never delivered to her daughter as planned. 88 years later, the unused diary fell into the hands of food historian Barbara Swell, who recognized it as perhaps the earliest collection of American cookie recipes dating from the mid 1880s up through World War I. The 1st American Cookie Lady includes Anna's 221 recipes recorded from 1917 to 1920 along with adaptations for the modern kitchen, vintage graphics and photos, World War I food shortage recipes, plus curiosities of cookie baking history. 6" x 9, 152 pages.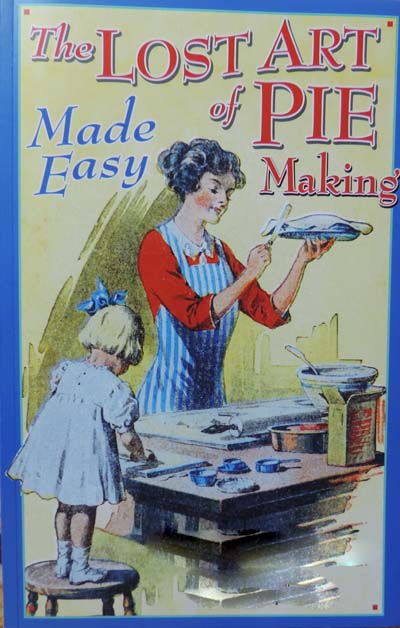 Pie Making Made Easy $8.95
Come home to Pie! This witty and fun cookbook shows you how to make a darn good pie in a jiffy. You'll feel like you're back in your grandma's kitchen as she shows you how she rolls out her flaky, tender pie crust. Recipes date from 1831, many from 19th century handwritten cooking journals. Includes old time pie lore, pie insults, why men love pie, pie contest tips, vintage photos, historic recipes and more. Make pies like Run Bittersweet Chocolate, Vanilla crumb, Apple/Pear Mince, quick flip pies, dumplings and crisps. 5 1/2" x 8 1/2" 72 pages.
For recipes on our cookbooks go to our cookbook page