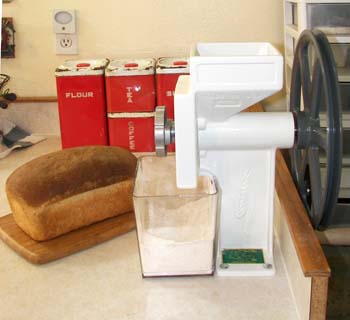 Wheat Grinder,
Corn Bean Auger
Hand grain mill that can be easily converted to electric.
(#1 Hand Mill, Can also be adapted for power!)
$429.00
Industrial grade ladyrinth grooved sealed bearings
Cast iron flywheel.
Lifetime guaranteed
Rated best in the world by two consumer magazines, East West Journal and Investment Advisor.
Bread in the picture above is from the wheat flour grinded on this mill. You may also get a wood hopper lid to cover the wheat grinder - corn / bean auger when not in use. We left it open so you could see the mill.
Questions? Call us 435-648-2141
Small Roller Pin for Dough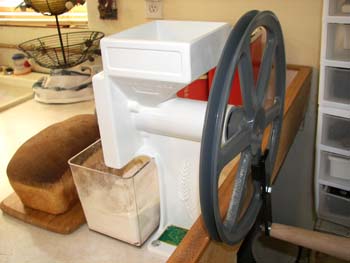 Wheat Grinder or Corn - Bean Auger
FDA approved food-grade powder coating finish. Powder coating cast air craft aluminum.
Build for hand milling, but easily motorized.
High-carbon steel grinding plates.
Notice how fine the wheat flour is grinded to. You may adjust it if you want a coarser grind for wheat cereal or the fine wheat flour for all your special recipes.
Bolt your wheat grinder to an area on your counter top or you may get a Wall mount kit to put your grain mill on.
The Motorization kit comes with a board to put your wheat grinder - corn bean auger on.
High Carbon Grinding Plates.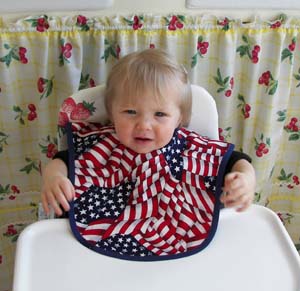 4th of July Bib #3016
$9.95 or buy 2 bibs or more (can be different bibs) 9.49 each
4th of July baby bib. This beautiful flag bib with easy snap on back has pretty red and white gingham on reversible the other side. Easy washable material.

Child Wood Rolling Pin Pastry Set $19.95
Kids Rolling pin & Pastry set with small rolling pin that will last for generations.
Little hands can roll out their cookie or pie dough with their very own rolling pin. Comes with removable cloth cover for rolling pin.
You will have your best helper in the kitchen!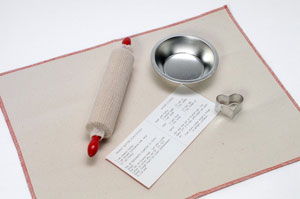 Kids Wood Rolling Pin and Pastry Set $19.95
Child Rolling Pin
Enjoy baking with your child using this child pastry set. Good quality kids (child) wood rolling pin made in America just at same factoryt of the adult rolling pin with removable cover is perfect for their small hands. Cookie cutter, small pie plate mat and recipe card.
An heirloom that will last for years.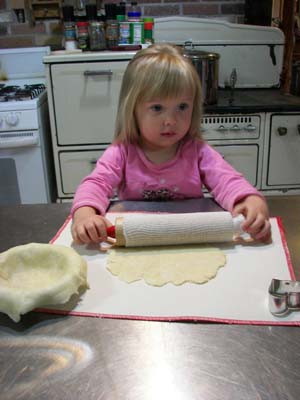 Small hands can enjoy cooking with you.
Your little one will enjoy their own little rolling pin that fit their small hands.